CAPE TOWN, South Africa, Feb. 15, 2023 /PRNewswire/ — Leading global electronics brand Hisense is preparing to deliver a revolutionary viewing experience to homes in South Africa with the local launch of its 90L5H 4K Laser TV. Featuring a palette of more than 16.7 million colors, the product brings true-to-life pictures with outstanding realism and accuracy.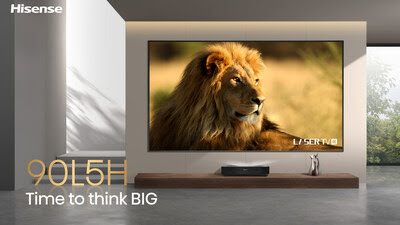 Billed as the company's most family-friendly big-screen TV, the 90L5H packs quite the punch with a 90-inch screen and 8.3 million pixels featuring the company's groundbreaking X-Fusion Laser Technology and Dolby Atmos multidimensional sound. The product is the perfect choice for a wide range of customers, whether they are avid movie fans looking for the best big-screen experience, sports fans trying to get closer to the action, or gamers looking for the best way to view graphics. The six-foot-wide 90L5H has something to offer users across a diverse mixture of demographics, from kids and teenagers to professionals who enjoy the finer things in life.
By employing a combination of the company's X-Fusion Laser Technology and ultra-short throw projection technology, Hisense achieves razor-sharp imagery on the 90L5H TV, bringing families a unique atmosphere in their own homes that is not dissimilar to the full-on cinematic experience. Despite its size, the product really punches above its weight in terms of performance. It features a reflective display and low-blue light to ensure that users will not feel the strain on their eyes during prolonged viewing sessions and all this comes without sacrificing the original display quality.
However, Hisense's investment in performance does not stop there. The company used its Ambient Light Rejecting technology to strengthen colors further, and users don't need to kill the lights to ensure a crystal clear and striking picture quality. Additionally, the high native contrast with a native rate of 3,000:1 makes those on-screen highlights even more punchy, delivering for users in terms of depth and realism for shadowy imagery on screen.
The team at Hisense pursued a sleek and attractive ergonomic when designing the 90L5H, and the result is a product that would not look out of place in most rooms anywhere in the house. Under the hood, the sturdy aluminum frame and scratch-resistance surface combine a favorable aesthetic with solid performance, and it all weighs only 20 pounds.
In terms of flexibility for users, the TV supports HDR10, HLG, and Dolby Vision while leveraging High Dynamic Range to transfer its ability to display such strong colors to supported content. Additionally, Filmmaker Mode is on hand to bring users a more authentic viewing experience. The mode deactivates some of the picture and motion technology settings to revert the viewing experience back to how the creator intended it to be, putting the user completely in control of image quality.
For more information, please check: https://hisense.co.za/products/hisense-90-4k-laser-tv-90l5h/
Photo – https://mma.prnewswire.com/media/2002871/90L5H_KV.jpg